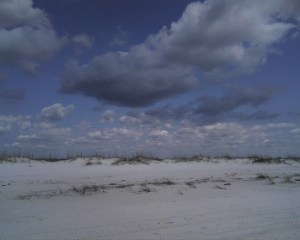 Saint Jude, the patron Saint of Sailors, is the apostle, commonly known as Thaddeus. He was the humble hard worker who often traveled by the sea in sharing the Gospel. In the Early Church, he became the patron saint of sailors due to the treacherous nature of navigating in the oceans of the world.
"By the Sea" is a relative term for the ministry and location of St. Jude's By the Sea Lutheran Church. Located 1.48 miles from the Gulf of Mexico, the congregation has ministered to people living along the Alabama Gulf Coast for nearly 30 years.
Though small in membership it has been large in the participation of meeting the needs of the community.
Our statement of ministry is: "We will help foster Christian fellowship and love to members and all who visit the Alabama Gulf Coast."   We are currently accomplishing this through our Worship, Bible Classes, Prayers, participation in the Christian Service Center, and other programs. We welcome our many visitors who join us all year and especially our friends who winter here with us during the months of January through Easter. All are welcomed to participate in the many opportunities of fellowship.
Come join us as we rejoice in God's grace and by the Holy Spirit's help, share the love of Jesus Christ! "To him who is able to keep you from falling and to present you before his glorious presence without fault and with great joy–to the only God our Savior be glory, majesty, power and authority, through Jesus Christ our Lord, before all ages, now and forevermore! Amen." ~ Jude 24,25